Click for our full calendar of events


UPCOMING EVENTS:
January 16: Wednesday Night Live Spring semester begins
Meal at 5 p.m.; Classes at 6 p.m. (Click HERE for Class Information)
January 19: Fourth Annual Southern Gospel Concert 5pm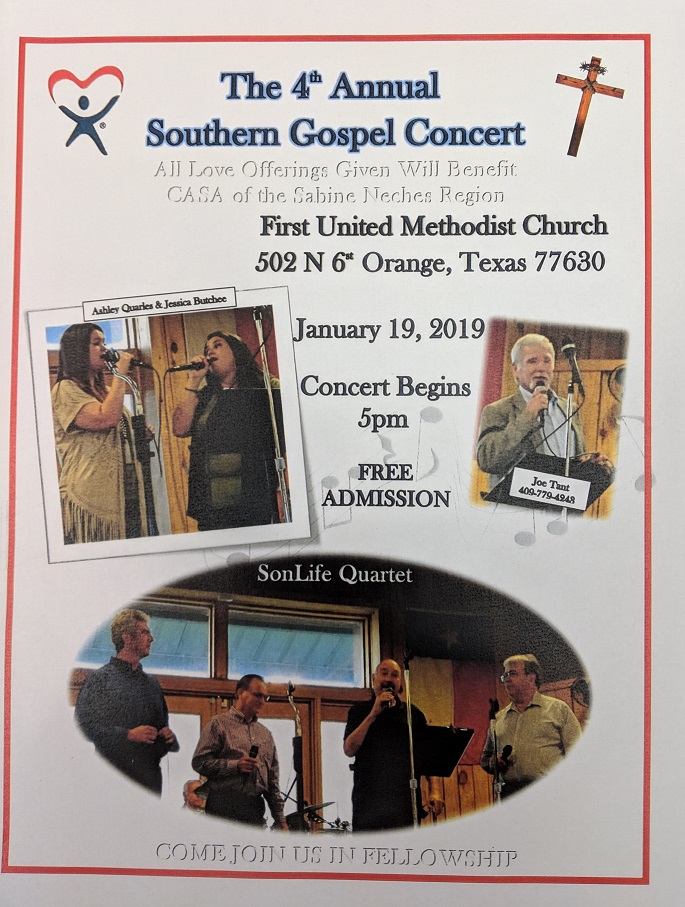 January 18: Confirmation Class visits Temple Emmanuel (Beaumont)
January 20: Youth Bonfire at Abshire's House (6-12th graders)
Keep warm in January during our Youth Bonfire. More information coming.
January 25-26: Hot Hearts (6-12th graders)
Join us for great worship with great bands and great speakers at Ford Park. $35 to go due by Dec. 27th
Confirmation Class visits Stable-Spirit (Vidor) 8:30am-12:30pm
February 10: Valentine's Bakesale Before & After Both Services
March 1: Game Night (Senior High) at Wesley Foundation at Lamar U.
Sr. High students are welcome to join up with college students from the Wesley Foundation at Lamar in having a game night. More info to come
March 31: Youth Scaventer Hunt (6-12th graders)
May 3-4: Confirmation Retreat