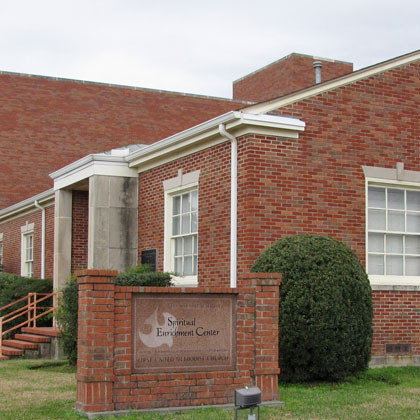 Due to COVID-19 and Hurricane Laura, The Malloy Center will be closed to the public for the rest of 2020. It can still be reserved for Hurricane Laura Disaster Relief teams ONLY.
First United Methodist Orange believes that for Christians to bear fruit, they must have the opportunity to grow in their faith journey. The Marjorie H. Malloy Spiritual Enrichment Center offers a great place for Spiritual enrichment, fellowship, relaxation and a nice bed after spending the day doing mission work.
The center is located across the street from First United Methodist Church, the Stark Museum of Art, and the beautiful Orange Fire Department headquarters. It is just two blocks from the W. H. Stark House Museum and the historic First Presbyterian Church and just three blocks from the Frances Ann Lutcher Theatre, the river boardwalk, and Lamar State College-Orange. Other nearby attractions include Heritage House Museum, the beautiful Shangri-La Botanical Gardens and the soon to be finished the Orange Depot Museum. Groups also enjoy the First United Methodist Church Prayer Garden, the beautiful Slade Chapel, and, for the more adventurous, airboat rides.
The facility has room to sleep up to 68 people and includes various room sizes, a conference room, a commercial kitchen, a washer and dryer, and a large area for meals and gatherings.
Reserve "The Malloy" for:
Church retreats
Class retreats
Youth retreats
Family reunions
Mission trips
Wedding receptions
Senior travel groups
Prayer retreats and guided programs
Walks to Emmaus
Craft retreats
One women's group holds an annual weekend slumber party. They arrive and put on their pj's for the whole weekend!
Whether you are looking for a place to hold a retreat or want to see the gardens and a performance at the Lutcher Theatre, you will find "The Malloy" a place you will want to return to again and again.
To reserve the Malloy Center, contact the church office.