Wednesday Night Live's mission is to stimulate personal spiritual growth and fellowship. Wednesday Night Live strives to build maturing disciples and maintain an active agenda of informal fellowship. Wednesday Night Live also provides not only FUMC but area residents personal enrichment courses. It gives the people from both worship services a time to come together for fellowship and study.
Enjoy a light meal and fellowship at 5 p.m. in the Family Life Center. Cost is $5 for adults, $2 for children OR $15 for a family. Classes will be begin at 6 p.m. We also provide classes for children and youth. A nursery is provided for infants and preschoolers. Fall classes begin in mid-September and conclude before Thanksgiving. The Spring classes typically are offered from mid-January through mid-March.
Spring Classes begin Wednesday, January 12

Spring 2019 - Classes TBA
Fall 2018 Class Topics Included the following:
Sept. 12: Orange Mayor Larry Spears will talk with us about his vision for Orange and what FUMC members can do to help. Meal includes: Pork roast, rice, beans, salad, desserts.
Sept. 19: Heather Graham from Harvest House in Beaumont will talk with us about Human Trafficking in Southeast Texas and what FUMC members can do to help. Meal includes: Jambalaya, salad, desserts.
Sept. 26: Presentation by our own Leslie Williams, on Dealing with Grief. Youth and families will go to the Lion's Club. Meal includes: Salad Bar, desserts
Classes Starting Oct. 3
Max Lucado's Life Lessons from Ezra and Nehemiah
(facilitator: Suzanne Magee)
The class will meet in the Fidelis Sunday School classroom. Please pay Suzanne $7 to secure a book.
Missional Blanket Making Class
(facilitator: Priscella Burns)
Join Priscella as she leads a group in the Family Life Center making tie blankets for babies (Rainbow Room) and for adults (Hospice). Ladies that crochet/knit are welcome to come and enjoy the fellowship while making blankets/throws for this mission opportunity. The class will begin with baby blankets to be donated to the Rainbow Room. Church members have donated the fleece for the blankets. Then the class will make blankets to be donated to Hospice. Each class member will purchase materials (2 yards of a solid and 2 yards of a pattern). Share FUMC's love with others!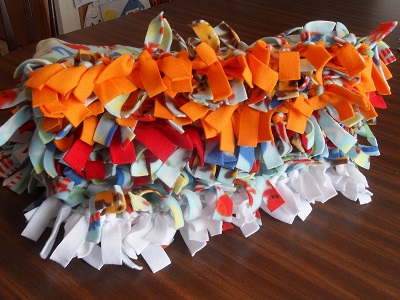 Youth (6th-12th grade) Class
(facilitator: Randall Bridges)
The Youth will be doing two series through WNL, #Hashtag and Exploring Thankfulness
Oct. 3-25: #Hashtag: Learning How To Think Like Jesus Series
Oct. 3 on School: We receive messages all day long telling us how to live our lives. We receive them from everywhere: advertising, social media, friends, teachers, parents, the culture at large. Not all of this "instruction" should carry equal weight. We must learn to recognize valuable instruction and be willing to learn from it. We must know that the ultimate source of knowledge and wisdom comes from God. When we learn from him and put his instruction into practice, we are laying a solid foundation for life.
Oct. 10 on Friends: It's easy to be a friend to people who believe all the same things you believe and do all of the same things you do. It's easy to serve the people that are very much like us. But Jesus calls us to be different. We are to look at each person as our neighbor. And Jesus asks us to love them as we love ourselves. (Youth serve food for WNL that night).
Oct. 17 - Lions Carnival (rescheduled) All families and youth are welcome to join us for the carnival. If you need transportation to and from the church to the carnival, be sure to let Randall know ahead of time. Otherwise, plan on meeting at Orange City Lions Park.
on Money:As recorded in the Gospels, Jesus spoke about money and our relationship to it more than any other topic. How we relate to our stuff is definitely of eternal significance. Greed and covetousness can have a powerful hold on us, clouding our judgment. We need to become people who seek the Lord first. When we are able to do that, money and stuff become tools that we use to serve God.
October 24 on Love: The unending, abundant love of God is difficult for us to truly fathom. That's why Jesus described it in terms that we could understand – the tale of a father and his son. Our challenge is to see God as a good and loving father and to put ourselves in the place of the child coming home. We cannot earn our way to God; he runs to meet us. He wraps his arms around us, accepts us, and celebrates our return. This is not the way the world loves.
November 1-8 Exploring Thankfulness
Nov. 7 Follow the Leader: Follow God's lead with a grateful heart.
Nov. 14 God Deserves Our Thanks: The God that answers prayers deserves a thankful heart.
Invite a friend and come enjoy fellowship during a light supper and
then grow in your Christian life through a variety of classes.