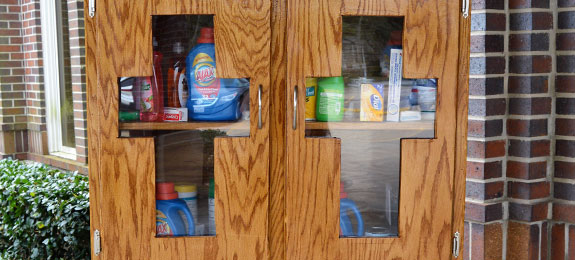 Blessing Box:
Have you checked out our Blessing Box at the entrance of the Family Life center? You'll find it under the portico where we placed it for ease of access while hopefully protecting it from the elements. We'll hopefully have a sign on it soon. Great news! The community has already found the box and shops from it often. The items most in demand are toilet paper, cleaning supplies and personal hygiene items. Food does not seem to move very quickly from the box. You can add items directly to the box at anytime, but we'll have a special blessing day on Sunday, June 25. Bring your Blessing Box items to the alter at any service you attend that day. We'll cover each item in prayer during the service and ask God to continue to use our church as a vessel of generosity and love for our neighbors.
Back to School Orange
Back to School Orange is set for the first Saturday in August on the 5th, and organizers hope to keep it on the first Saturday from now on. The goal is to distribute 1100 school supply kits this year, including preK kits.
We have four ways FUMC Orange can contribute and support the event.
1) Encourage any Orange County child to pre-register.
2) Support the barbecue fundraisers this summer.
3) Volunteer for line control during Back to School Orange. We'll need committed volunteers and your shirt size since they provide us with shirts. You also need to attend the volunteer walk-through on Thursday afternoon, August 3rd.
4) Volunteer to work our FUMC Orange table. Wear your personal FUMC ORANGE shirt for that area. We'll distribute personal hygiene kits with items such as deodorant, combs, or hairbrushes. We'll start collecting items now to distribute at our table.