Click for our full calendar of events
Wednesdays, January 24-March 21 - Friends and Family Night, meal at 5, classes at 6 p.m. (formerly WNL)
No activities March 14 - enjoy spring break!

Click here for Friends & Family Night Information


Sundays during Lent (Feb 18-Mar 28) - Lenten Ladies' Bible Study - The Daniel Prayer, 5-7 p.m.
ABOUT THE DANIEL PRAYER
In Daniel chapter nine, Daniel poured out his heart in prayer. What happened? Heaven was moved, a nation was changed, and generations felt the impact. This is the kind of prayer that's possible for your life, and on ethat Anne Graham Lotz will help you understand in The Daniel Prayer.
The Daniel Prayer is not an everyday type of prayer. It's a prayer birthed under pressure. Heartache. Grief. Desperation. Or it can be triggered by a sudden revelation of hope. An answer to prayer. A promise freshly received. A miracle that lies just over the horizon. But whether you pray out of triump or tragedy, The Daniel Prayer works.
This book, based on Daniel's prayer in Daniel 9, will help you pray effectively for your nation, for your family, and for yourself. Anne answers questions such as:
How do I know the God whom I pray will listen?
How do I know God cares about my prayer?
Why should I pray?
Does it matter where I am when I pray?
Are words in prayer all that matter, or does my attitude affect prayer?
What difference does my prayer make?
For more information about how to be involved contact Leighia Barron at leba@woccisd.net
Thursday, March 15 - Youth serve at the SE Texas Food Bank
Meet at the church at 11:00am (please eat lunch before coming or bring a sack lunch to eat on the way). We will drive to the Food Bank, help them sort food from 12-3pm, and be back to the church around 3:45pm.
Youth must have a signed permission form found here
Sunday, March 18 - ONE service at 11 a.m. in the Sanctuary
Service of Dedication of the Family Life Center Debt Free and the Naming of the Education Building! Bishop Jones will preach.
Following the service, we will share a lunch in the Family Life Center at which time we will burn the mortgage of the Family Life Center!
Sunday, March 25 - Palm Sunday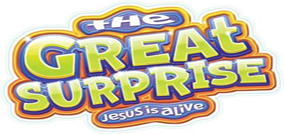 3:00–The Great Surprise—Families will rotate through a variety of centers – science, Bible story, crafts, and snack. Seeking VOLUNTEERS (especially those without children through 5th grade) to "man" the centers. Please let Leighia know if you can help.
4:00–Egg Drop—Secure your raw egg in a container–use a parachute–be as creative as you want to be. Youth will drop the egg from the 2nd floor of the Family Life Center. Here's hoping everyone's egg survives!
4:30ish–Easter Egg Hunt—Easter Egg Hunt for toddlers through 5th grade. The Egg Hunt will begin after Egg Drop. Youth will be "stuffing" eggs with candy. Please bring individually wrapped candies by Sunday, March 18.
Thursday, March 29 - Maundy Thursday Communion service, 6-7 p.m., Chapel
Friday, March 30 - Good Friday. Office closed
Sunday, April 1 - Easter Sunday
8 am - Easter Breakfast in the Family Life Center
9 am service in the Chapel
10 am Sunday School
11 am service in the Sanctuary
Thursday, April 26 - Youth Attend Newsboys & Zealand Concert at 7 p.m.
Tickets: $18 / Ticket Deadline: March 21
The Newsboys are headlining a concert at Glad Tidings Church in Lake Charles, LA. We will leave the church parking lot together at 6 pm (please eat before coming, snacks and coffee are available at the venue) and return sometime between 10-11 pm.
Sunday, April 29 - Senior Recognition Breakfast at 10 a.m. in the Family Life Center
Honoring our High School Graduates and their families: Kaylin Abshire, Trent Brown, Noah Burns, Michael Lee, McCarthy Miller, Zach Shaw, Anthony Wimmer, and Raven Wedgeworth.
Randall will be contacting each family to request a baby and graduation picture. He can scan them to return to you OR you can bring him copies. Also PLEASE RSVP to Randall, to ensure an accurate count for breakfast. If you have a senior graduating not mentioned above, please contact Randall.
The Discipleship Team (Christian Education) will need help preparing, serving, and cleaning up after the meal. If you can help, please contact Leighia Barron.