Looking for our full calendar of events?
May 7
ONE SERVICE at 11 a.m.—Confirmation Sunday
5 p.m. - Youth Fundraiser meal prior to the performance in the Family Life Center. Donations for the meal will help the youth group with summer camp scholorships.
6 p.m. - 1st Methodist Kids present "The Kingdom Connection" in the Family Life Center. A musical about some of the greatest kings of Israel from Saul to Solomon and more including Jesus, the King of kings.
May 12-13
30 Hour Famine at FUMC (6-12th graders)
Cost: Donations
It's students around the world loving God and fighting hunger. Every year, hundreds of thousands of students in the U.S. unite to do the Famine. This year, we will join multiple churches nationwide during our famine. Participants learn about hunger, raise funds to help hungry kids, and experience hunger for themselves. Learn more about the famine by going to 30 Hour famine.
May 28
ONE SERVICE at 11 a.m.— Prime Time Youth Choir Concert
The 100 voice Prime Time Youth Choir from Christ UMC in College Station, Texas, is made up of students from grades 7-12. The group rehearses each Sunday afternoon and they regularly sing for worship. During the year the group participates in special services and concerts. Each summer the Youth Choir takes a tour. Past locations include Disney World, Hollywood, Colorado Springs, Atlanta, Branson, Tennessee, Florida and throughout Texas. The choir is under the direction of Chris Caffee and James Faith.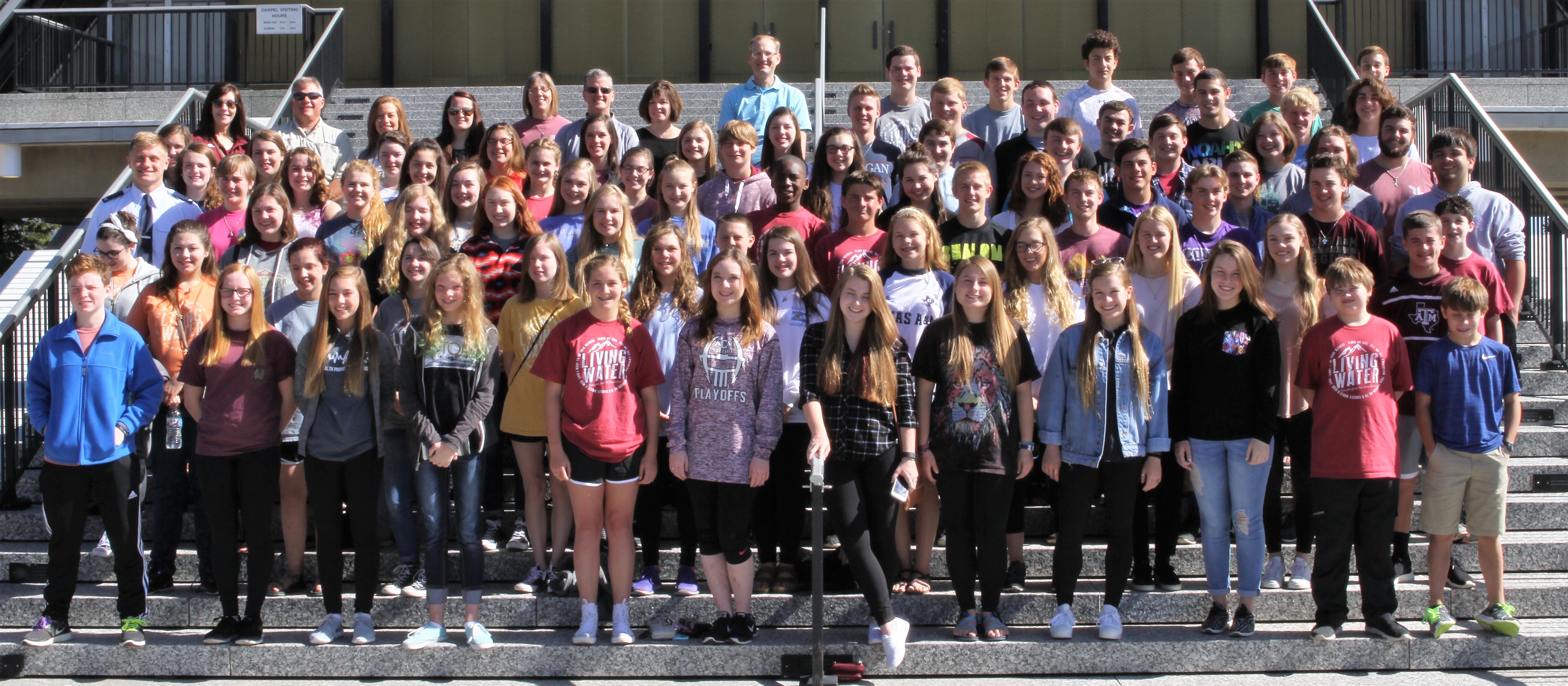 June 11
Deadline to complete VBS Family Design a Robot contest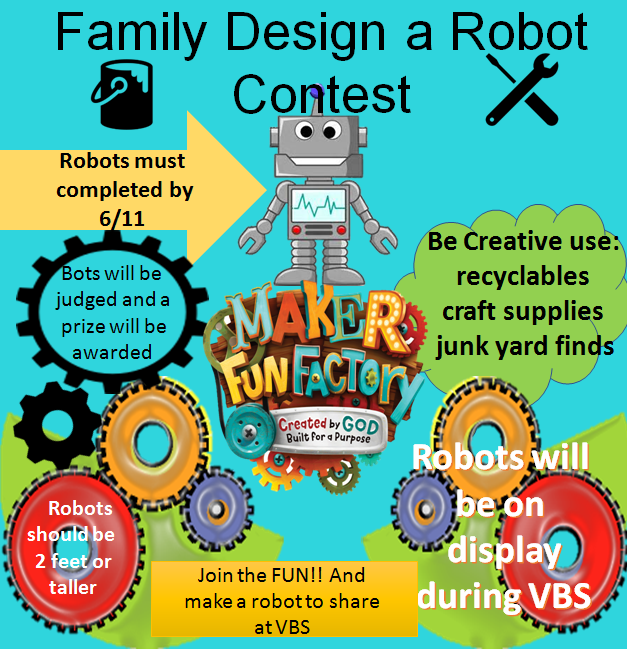 June 11-17
UM Army Mission's Trip at Alto, TX (9-12th graders)
Cost: $250/person
UM Army is a 7-day camp where participants combine their strengths to provide free home repairs for low-income, elderly, and disabled homeowners who are physically or financially unable to make needed repairs. The work at U.M. ARMY provides an opportunity to practice Christian faith and love through action. The worship and devotional materials provide opportunities for spiritual development, learning, and discussion. More information can be found at UM ARMY Missions.
June 19-23
Vacation Bible School – Maker Fun Factory
The Christian Education Committee is collecting your cleaned trash items to make robots for this summer's Vacation Bible School—Maker Fun Factory! We are collecting all types of plastic lids, buttons, cereal boxes, water bottles, etc. Also if you have any spray paint that you no longer need, that would be appreciated too. Give your donations to Leighia, Nicole, or Randall. The robots will be found in different areas of the church holding VBS flyers, donation requests, and other opportunities to help / volunteer.
June 28- August 2
Woman's Bible Study starts June 28
We will meet at Misti Groom's home from 6:30 to 8:30 pm. We will share a meal and fellowship the first 30 minutes. We will meet weekly until our last class on August 2.
This year we will study Beth Moore's Entrusted, A Study of 2 Timothy. There is a study guide that costs $13.00. Please RSVP to Nicole 782-6296 or mrsjcwatz@gmail.com to reserve your book and chair at the study. Do you need a ride, please let Nicole know and she will arrange a ride for you.
This study is unique in the aspect that you choose your level of participation. If you will not have the extra time this summer, you can participate in level 1: join us each week to watch the videos. You will not need to buy a study guide but will still need to RSVP. The other levels require the study guide and are as follows:
Level 2: Participate in videos and do weekly homework assignments
Level 3: Participate in videos, do weekly homework assignments and handwrite 2 Timothy.
Level 4: Participate in videos, do weekly homework assignments, handwrite 2 Timothy, read "Next Level with Melissa"
Level 5: Participate in videos, do weekly homework assignments, handwrite 2 Timothy, read "Next Level with Melissa", and memorize 2 Timothy.
I am not ashamed, because I know the One I have believed in and am persuaded that He is able to guard what has been entrusted to me until that day. ~ 2 Timothy 1:12
Final words can be compelling. In Paul's final letter, he charged Timothy, his beloved son in the faith, to not be ashamed to fulfill God's call on his life. In this 6-session Bible study, Beth Moore will challenge you to do the same.
God has a plan for you. He has entrusted you with the gospel message and has gifted you to carry it to the furthest reaches of this planet, he's calling you to be His mighty servant, willing to face whatever difficulty you encounter as you carry out His mission.
June 30-July 3
Camp Eagle at Rocksprings, TX (6-12th graders)
Cost: $285/person
Zakk Revelle will be leading Camp Eagle through the gospels of Matthew, Mark, Luke, and John while we are there. We also will have the chance to trust God while doing once in a life time obstacles while we are there! For more information, visit Camp Eagle.
July 13-17
BigStuf Summer Camp at Panama City Beach, FL (9-12th graders)
Cost: $393/person
BigStuf is a camp with quality Biblical teaching, passionate worship, and a beautiful place to be with God. Its mission and vision is to inspire students to live life with Jesus by creating experiences that will make a difference in the lives of students. For more information, visit BigStuf.
July 20-23
Emmaus Women's Retreat (in the Malloy Center)
September 21-24
Emmaus Men's Retreat (in the Malloy Center)
October 19-22
Emmaus Women's Retreat (in the Malloy Center)