Looking for our full calendar of events?
June 6
Handbells and Chimes Choir --331 Handbells and Chimes will peformi at 7 p.m. in the Family Life Center. For more information click here.
June 11
Deadline to complete VBS Family Design a Robot contest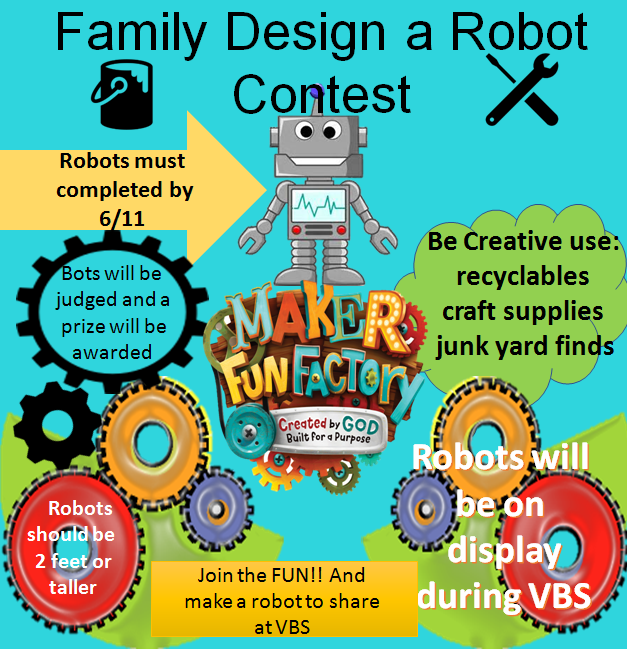 June 11-17
UM Army Mission's Trip at Alto, TX (9-12th graders)
Cost: $250/person
UM Army is a 7-day camp where participants combine their strengths to provide free home repairs for low-income, elderly, and disabled homeowners who are physically or financially unable to make needed repairs. The work at U.M. ARMY provides an opportunity to practice Christian faith and love through action. The worship and devotional materials provide opportunities for spiritual development, learning, and discussion. More information can be found at UM ARMY Missions.
June 19-23
Vacation Bible School – Maker Fun Factory
9-11:30 a.m.; Pre-School through 5th Graders
The Christian Education Committee is collecting your cleaned trash items to make robots for this summer's Vacation Bible School—Maker Fun Factory! We are collecting all types of plastic lids, buttons, cereal boxes, water bottles, etc. Also if you have any spray paint that you no longer need, that would be appreciated too. Give your donations to Leighia, Nicole, or Randall. The robots will be found in different areas of the church holding VBS flyers, donation requests, and other opportunities to help / volunteer.
Register Online at: vbspro.events/p/e67d07
June 25
Special Blessing Box Day
Have you checked out our Blessing Box at the entrance of the Family Life center? You'll find it under the portico where we placed it for ease of access while hopefully protecting it from the elements. We'll have a sign on it soon. Great news! The community has already found the box and shops from it often. The items most in demand are toilet paper, cleaning supplies and personal hygiene items. Food does not seem to move very quickly from the box. You can add items directly to the box at anytime, but we'll have a special blessing day on Sunday, June 25. Bring your Blessing Box items to the alter at any service you attend that day. We'll cover each item in prayer during the service and ask God to continue to use our church as a vessel of generosity and love for our neighbors.
June 28- August 2
Women's Summer Bible Study - Wednesday nights
6:30 to 8:30 pm. - share a meal and fellowship the first 30 minutes
Mistis Groom's home


Study Beth Moore's Entrusted, A Study of 2 Timothy (Study guide costs $13 - required for Levels 2-5 below.) Please RSVP to Nicole 782-6296 or mrsjcwatz@gmail.com to reserve your book and chair at the study. Let her know if you need a ride.
This study is unique - you choose your level of participation.
Level 1: Participate in videos. No Study Guide needed, but do need to RSVP (great option if you will not have extra time this summer!)
Level 2: Participate in videos and do weekly homework assignments
Level 3: Participate in videos, do weekly homework assignments and handwrite 2 Timothy.
Level 4: Participate in videos, do weekly homework assignments, handwrite 2 Timothy, read "Next Level with Melissa"
Level 5: Participate in videos, do weekly homework assignments, handwrite 2 Timothy, read "Next Level with Melissa", and memorize 2 Timothy.
I am not ashamed, because I know the One I have believed in and am persuaded that He is able to guard what has been entrusted to me until that day. ~ 2 Timothy 1:12
Final words can be compelling. In Paul's final letter, he charged Timothy, his beloved son in the faith, to not be ashamed to fulfill God's call on his life. In this 6-session Bible study, Beth Moore will challenge you to do the same.
God has a plan for you. He has entrusted you with the gospel message and has gifted you to carry it to the furthest reaches of this planet; he's calling you to be His mighty servant, willing to face whatever difficulty you encounter as you carry out His mission.
June 30-July 3
Camp Eagle at Rocksprings, TX (6-12th graders)
Cost: $285/person
Zakk Revelle will be leading Camp Eagle through the gospels of Matthew, Mark, Luke, and John while we are there. We also will have the chance to trust God while doing once in a life time obstacles while we are there! For more information, visit Camp Eagle.
July 13-17
BigStuf Summer Camp at Panama City Beach, FL (9-12th graders)
Cost: $393/person
BigStuf is a camp with quality Biblical teaching, passionate worship, and a beautiful place to be with God. Its mission and vision is to inspire students to live life with Jesus by creating experiences that will make a difference in the lives of students. For more information, visit BigStuf.
July 20-23
Emmaus Women's Retreat (in the Malloy Center)
August 5
Back to School Orange is set for the first Saturday in August on the 5th, and organizers hope to keep it on the first Saturday from now on. The goal is to distribute 1100 school supply kits this year, including preK kits.
We have four ways FUMC Orange can contribute and support the event.
1) Encourage any Orange County child to pre-register.
2) Support the barbecue fundraisers this summer.
3) Volunteer for line control during Back to School Orange. We'll need committed volunteers and your shirt size since they provide us with shirts. You also need to attend the volunteer walk-through on Thursday afternoon, August 3rd.
4) Volunteer to work our FUMC Orange table. Wear your personal FUMC ORANGE shirt for that area. We'll distribute personal hygiene kits with items such as deodorant, combs, or hairbrushes. We'll start collecting items now to distribute at our table.
September 21-24
Emmaus Men's Retreat (in the Malloy Center)
October 19-22
Emmaus Women's Retreat (in the Malloy Center)